Minimally Invasive Dentistry for tooth restoration
We will provide safe, reliable new fillings as treatment for your cavities.
Bridge the gap!
If you're missing one tooth, it can seriously negatively impact your dental health. Placing bridges helps your looks as well as allowing you to chew normally.
Cantilever bridges – Used to replace teeth that do not have supporting teeth on both sides
Maryland bonded bridges – Uses minimal tooth reduction for tooth replacement
Traditional bridges – Utilizes crowns to hold the false tooth
Affordable payment options
You will have affordable options thanks to our flexible financing options to cover the cost of your fillings. Take advantage of our FREE new patient exam as well to save even more money.
---
Related Bridgework Articles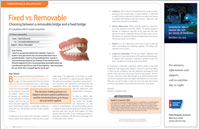 Fixed vs. Removable
For those patients who have lost all their teeth, but have not lost significant bone, a fixed bridge (permanent non-removable teeth) may be the treatment of choice since the new bridge is not needed for facial and lip support. However, not all patients are candidates for this treatment… Read Article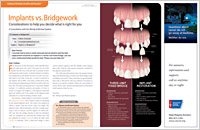 Implants vs. Bridgework
Considerations to help you decide what is right for you. However, a discussion with your dentist is necessary to discuss your specific situation. Please see your dentist to review all the risks, benefits and alternatives to determine which option is best for you… Read Article