Not sure you need partial or complete dentures?
We offer free consultation for you to know exactly what sort of work you need and what the process will entail.
We offer dentures for patients in Bridgeport, CT, Trumbull, CT, Stratford, CT, and the nearby areas. Whether you need partial or complete dentures, we offer the right solutions for all of your smile restoration needs. We offer comprehensive and free consultations to ascertain the exact dental treatments that are right for you. At your consultation we will discuss the process and what your treatments will entail.
A second chance at a beautiful smile
Whether you have lost your teeth due to tooth decay, malnutrition, genetic disorders, injury, or any other cause, we can help you restore your smile with dentures perfectly fitted for you. Dentures offer a second chance at a beautiful smile for an affordable cost. In addition they help you improve your speech, your ability to chew, and they support your facial structure just like your natural teeth.
If you are considering dentures, we are happy to talk to you about your options. Dentures are a cost effective and functional solution that offers an immediate solution to missing teeth. Dentist Larry I. Gottlieb will be happy to discuss whether dentures are the right solution for your smile enhancement goals. Give us a call today and get started on the smile you have always wanted.
Contact us to schedule an appointment
Contact the dental office of Larry I. Gottlieb, DDS to schedule your dental appointment. We provide free new patient exams and flexible financing. Call us at (203) 374-1027 today. We look forward to bringing the best out of your smile!
---
Related Denture Articles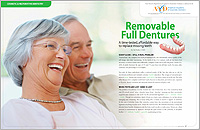 Removable Full Dentures
Complete tooth loss can cause a host of health problems, including malnutrition and bone loss. Though fixed bridgework may hold a higher place of reverence when it comes to replacing an entire set of teeth, removable full dentures can provide an elegant solution that is significantly more affordable… Read Article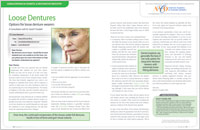 Loose Dentures
Loose dentures are a common problem for people who are full or complete denture wearers, especially if you have worn them for a long time. Whether or not new dentures are needed depends not only upon the condition of your existing dentures, but also how much the supporting tissues have changed… Read Article